Sunday, December 19th marked the return of our Car for a Cause giveaway.
Partnering with our friends at several Napa Car Care Centers in San Diego, we once again – after a covid-related break in 2020 – restored a worthy vehicle (this time a 2007 Saturn Vue) to a great drivable condition, and gave it away to a more-than-worthy recipient in need.
The Saturn was completely gone through with all the repairs, parts, and finishing needed to make it a great prize for someone who could really use it, as nominated by one of their friends, family or acquaintances.  You name it: engine, electronics, tires, brakes, trim – everything was addressed.  We make it a point to provide this prize every year.  We even covered the cost of registration and threw in some holiday cash to the lucky recipient – because we all know the price of gas these days.
We understand just how important a reliable vehicle can be for some people to be able to get around and get things done.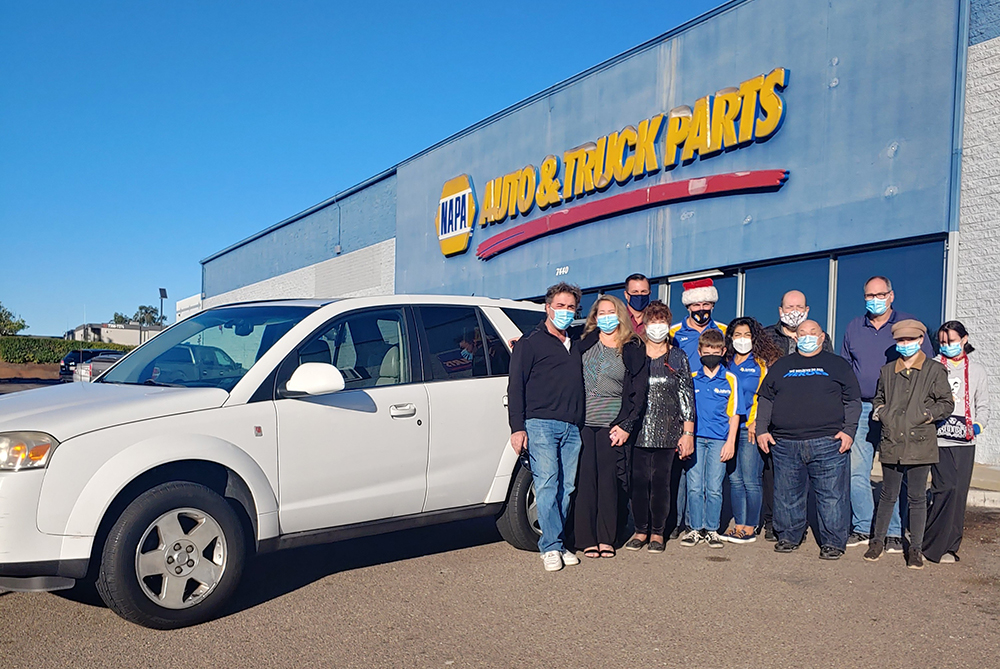 The Nomination Process
The Car for a Cause winner was selected by a three-person panel that reviewed nominations from the public, who filled in nomination forms at NapaAutoCareSoCal.com. The folks who made the nominations are certainly to be recognized and congratulated for their care and attitude – of wanting someone they know to benefit, who richly deserved it.
Sadly this year, due to covid restrictions and mask mandates, we were not able to announce the winner live on the air at KUSI's news broadcast, as we have in past years. Instead, we did the proceedings at the Napa Auto Parts store on Convoy Court.  Nevertheless, it was a great day, and we feel it's a fantastic way to give back to the community we so value as our customers.
This annual event proves to us every time what a fantastic customer base we possess. We're nothing without you folks!
Congratulations to our 2021 Car for a Cause winner.  We look forward to many more worthy recipients in the coming years.