San Diego traffic is no joke and neither are the Brakes on your car. That's why San Diego drivers have been trusting FTS Auto Repair Shop for every car brake service for over 25 years.
FTS Auto Repair is a full-service brake repair shop San Diego area. We offer a wide range of Brake repair services from simple brake pad repair to complete rotor and caliper replacement. And we back all of our services with excellent customer service, competitive prices, and speedy turnaround times.
Rest assured, your car is in good hands with the brake repair shop San Diego trusts, FTS Auto Repair.
If your car needs brake repair, trust the experts at the FTS brake repair shop San Diego and get your car back on the road as soon as possible. Whether it's a service, repair, or maintenance, our team at FTS auto repair will take care of your car like it's our own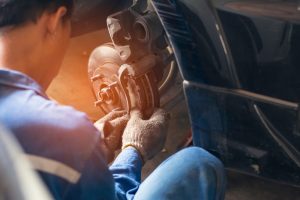 Why do San Diego Drivers Hire Us?
As a brake repair shop San Diego, we only work with the best of the best. All of our mechanics are certified and highly skilled in what they do. You can trust that your car is in good hands when you bring it to us.
We believe that quality service shouldn't have to break the bank. That's why FTS brake repair shop San Diego offers affordable rates without compromising on quality.
FTS brake repair shop San Diego has been around since 1993. In that time, we have built a solid reputation as a trusted and reliable shop.
Your safety is our number one priority. We want to make sure you and your family are safe on the road, which is why we only use the best parts and materials for our repairs.
We are centrally located in San Diego, making it easy for you to get to us.
We are confident in the quality of our work. That's why we offer a 100% satisfaction guarantee. If you're not happy with our work, we'll make it right.
Emergency Brake Repair
We know when your Brakes go out, it's not just an inconvenience- it can be dangerous. That's why our brake repair shop San Diego offers emergency Brake Repair services. Whenever you need us, we'll be there.
Premium Discount
If you need brake repair, we want to help. FTS Brake repair shop San Diego is offering $100 off on premium brakes. That means you can get the best brakes for your car at a fraction of the cost.
Get Your Brakes Repaired Today
Don't wait until it's too late. Brake problems don't just go away. If you think you need Brake repair, pick up your phone and schedule an appointment with FTS Brake Repair Shop San Diego today.
We look forward to meeting you and getting your car safe and running smoothly again.