Cabin air filter replacement is a common topic these days because not all vehicles have them. To clear up any confusion, let's discuss the difference between the engine air filter and the relatively new cabin air filter.
The cabin air filter cleans the air going into the passenger compartment and the engine air filter cleans the air going into the engine. Every vehicle is equipped with an engine air filter but not necessarily with a cabin air filter.
There are many pollutants, spores and dust particles in the air today. The cabin air filter traps most of these before they reach the passenger cabin. When you consider that a cabin air filter can stop a particle as small as three microns in size and a grain of sand is almost 200 microns, it's easy to see that having it filter the air entering your passenger compartment can make your travel experience much more pleasant.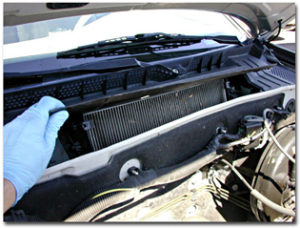 Replace the cabin air filter when it gets dirty. Your service technician can inspect it or consult your owner's manual for recommended replacement intervals. Some cabin air filters are located behind the dashboard and takes a little extra time to replace while others can be easily reached. Your NAPA AutoCare technician will know just where to look.
Remember, smog, pollutants, allergens and dust can be harmful. A clean cabin air filter will help keep these out of your passenger area.
Have yours checked and if it is time, then have it replaced.